The aim of the event was to inform the residents of the Sesselacker development about a number of topics:
Status of the small & large playground (viewing of the location and project presentation)
Status of the swimming pool renovation – project update and information on
Discussion on a potential neighbourhood compost Sesselacker
Presentation of the possible location of the potential neighbourhood compost
A neighbourhood compost is created only when a group of responsible neighbours is formed to look after this compost.
Some residents had expressed their interest at the event on settlement nature – it would be nice if a group were already formed and took part in future information events.
If you are interested in the neighbourhood compost, please contact the NVS, we will be happy to forward your e-mail to Regimo.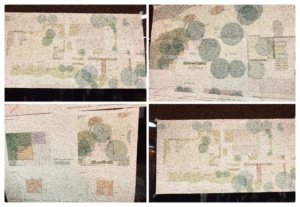 Despite the rainy weather, about 40 interested residents came to the event, one representative each from CMS and Regimo, as well as from the landscape architecture/tree care department.